Go Power! 500w Solar Panel Kit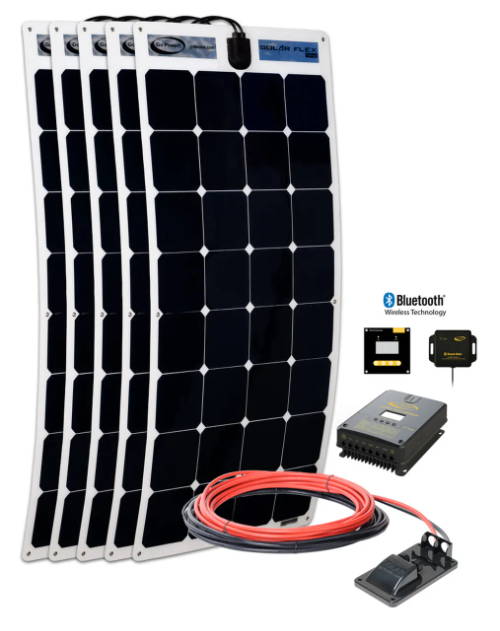 The solar panels are coated in a waterproof coating that doesn't restrict the panel's flexibility and improves aerodynamics and durability.
The GP-FLEX-500 can be mounted using adhesive or screws, so no need for custom mounts and bulky frames.
Measuring less than 1/8" (3 mm) thick, the solar panel array can be affixed to almost any surface.
High-efficiency back-contact solar cells are designed to work significantly better in low-light or overcast weather conditions.
40-Amp MPPT Solar controller protects your batteries from overcharging.
The MPPT controller also ensures that the solar panels always generate the maximum possible power output.
From $2,239.99 + FREE SHIPPING
---
---
What's in the 500w Solar Panel Kit?

5x GP-FLEX-100 Watt Solar Panels (equal to a 500 Watt solar panel / 28.4 amps)
40-Amp MPPT Solar Controller (GP-MPPT-40)
MPPT Digital Remote Display
1 x GP-CEP-25 – 25' Cable Entry Plate with 25' of cable
Mounting hardware (4 x GP-MH-4-KB)
Shop the Almighty 500W Solar Power Kit by Go Power!
---
The five powerful solar panels produce enough power to fully utilize an inverter charger. Coupled with a 3000 Watt inverter charger from Go Power!, the GP-FLEX-500 can take your motorhome completely off-grid.
Power your RV Appliances with Green Energy!
This kit is the most powerful flexible solar system from Go Power! The solar panels are made out of high-efficiency monocrystalline cells that produce more power per square foot than any other flexible solar panel on the market.
Why choose flexible solar panels
Measuring at less than ⅛" (3mm) thick, the thin and flexible design keeps the solar panel low-profile. This makes the GP-FLEX-500 more aerodynamic, minimizing the wind force of high-speed driving on your roof-mounted solar solution.
---
Cell Type

- Monocrystalline

Rated Power (Pm)

- 500 W

Maximum Power (Vmp)

- 17.6V

Maximum Power Current (Imp)

- 5.68A

Open Circuit Voltage (Voc) -

20.8V
Warranty

- 5 years

Short Circuit Current (Isc)

- 6.14A

Maximum system Voltage

- 600VDC

Weight (Per panel)

- 2.9 lbs (1.35 kg)

Dimensions (Per panel)

- 44.6 x 21.4 x 0.1 in (1134 x 544 x 3 mm)