Posted by Heatso on 12th Mar 2023
Cooking in a van can be a challenging yet rewarding experience. Whether you are a full-time van lifer or planning a weekend camping trip, having the right equipment and knowledge is crucial to maintaining a healthy diet.
VAN LIFE COOKING: THE COMPLETE GUIDE FOR YOUR VAN KITCHEN

Cooking in a van can be a challenging yet rewarding experience. Whether you are a full-time van lifer or planning a weekend camping trip, having the right equipment and knowledge is crucial to maintaining a healthy diet.
In this blog, we will cover everything you need to know about van life cooking, including choosing the best van life fridge or cooler, essential equipment for your van kitchen, practical cooking hacks and ideas, and some of the best van life cooking recipes. Cooking tasty food can be easy with the right tools!
HOW DO YOU COOK IN A VAN?
Before setting out on your van life journey, you should consider your cooking options. A good starting point is to decide whether you want to install a complete kitchen camper van or keep it simple with a portable stove. A portable stove is cheaper and takes up significantly less space, but isn't anywhere near as versatile as a complete kitchen setup.
The core of the kitchen will be your heat source. The most popular options are fueled by propane, but diesel stoves like the X100 have been gaining popularity for their safety and reliability. Diesel stoves are much more compact since you don't need to worry about installing and refuelling propane canisters.
It's also essential to have proper ventilation in your van kitchen. Cooking generates lots of excess moisture, which, if not ventilated properly, will condense and promote mold growth. Installing a roof vent or even an air conditioning unit helps mitigate this problem. But we suggest keeping the side door open while cooking if the conditions allow it.
CHOOSING A VAN LIFE FRIDGE OR COOLER
One of the most significant challenges of van life meals is keeping food fresh. A fridge or cooler is an essential item for any van life kitchen.
When choosing between a fridge or cooler, you should consider how long you'll be traveling, how much space you have, and your budget. A cooler is a more affordable option, but it requires ice to keep food cold, which means you'll need to replace the ice frequently. A fridge, on the other hand, is slightly more expensive, but makes up for it with a higher capacity and more efficiency, and will keep your food fresher for longer.
When choosing a fridge, you should consider the size and type. A compressor fridge like the Indel B OFF Cruise line runs on battery power and is built specifically for use on the move. You can find out why a 12V compressor fridge is the ideal option for vanlife in our complete fridge guide, where we go in-depth about choosing the perfect cooling solution.
Regardless of whether you pick a compressor-powered or absorption fridge, make sure it fits your van kitchen. The perfect fridge depends on how much space you have, how long you'll be travelling at a time, and how many people are living together. Ideally, your RV fridge should be around 65-130 liters, or 2.5 - 4.5 cubic feet.
EQUIPMENT FOR COOKING IN A CAMPER VAN
When it comes to van life cooking, it's important to have the right equipment to make cooking easy and efficient. Some must-have items for your van life kitchen include a set of pots and pans, utensils, plates, bowls, and cups. It's also a good idea to invest in a cutting board and a sharp knife for food preparation.
To save space, consider investing in multi-functional items like a nesting pot set or a collapsible colander. Additionally, a portable grill or campfire cooking set can be a fun way to cook meals outside of your van. Finally, don't forget about storage containers to keep your food organized and easy to access.
Of course, you must take all safety precautions when cooking indoors. That means installing a carbon-monoxide detector and having a fire blanket or extinguisher always on-hand.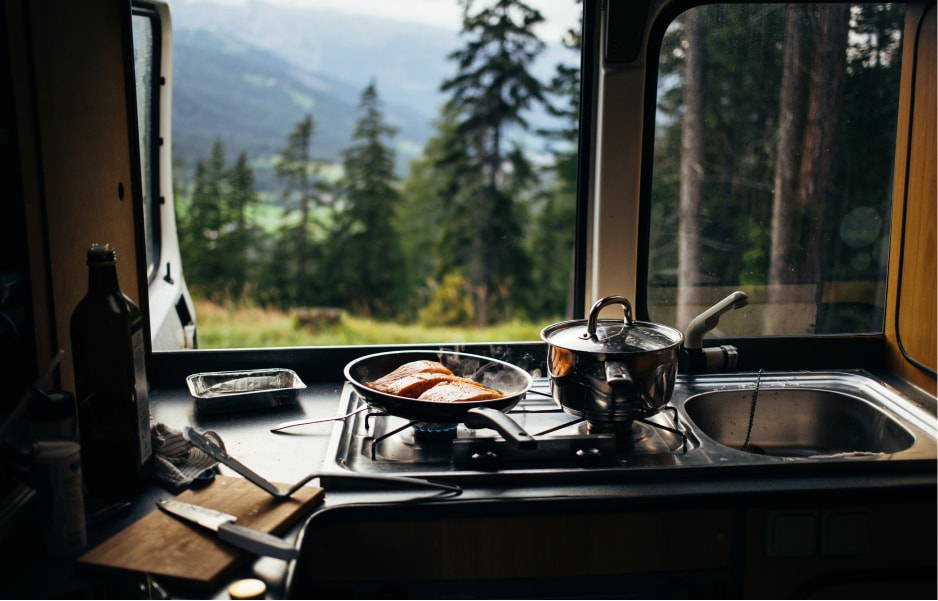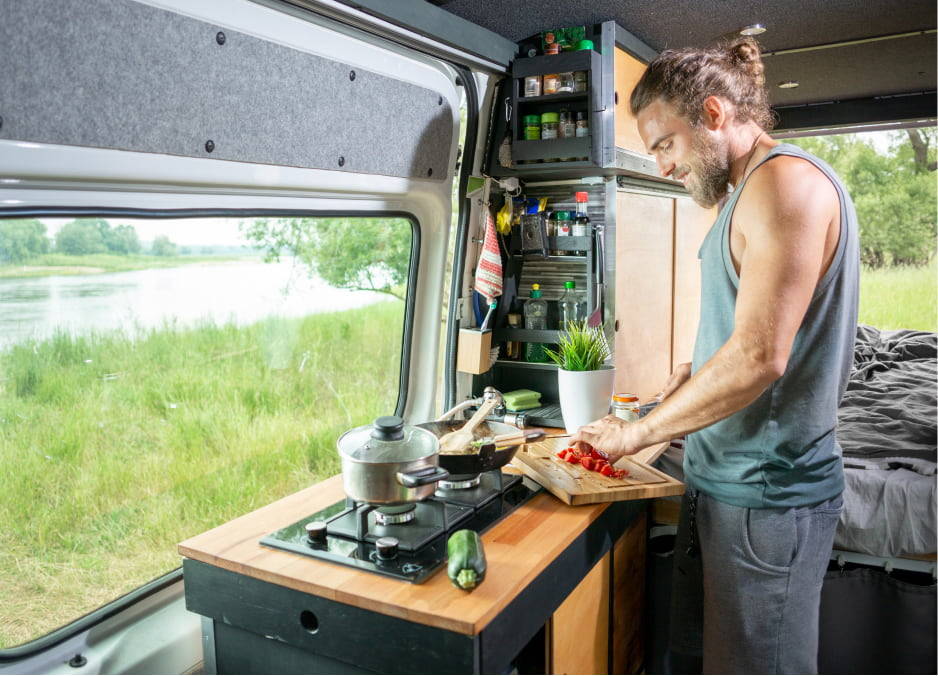 VAN LIFE COOKING HACKS, IDEAS, AND TIPS
Cooking in a van can be a challenge, but there are many van life cooking hacks, ideas, and tips to make it easier. Because you're dealing with very limited space, you need to get creative when storing things. Consider investing in a magnetic spice rack that can be easily attached to the wall or using collapsible bowls that can be stored easily.
Depending on how long you'll be travelling, another idea is to meal prep before your trip, so you have pre-made meals that can be quickly reheated on the go. Even some simple mise-en-place like pre-cutting your veggies can save you a lot of space and cooking time later on.
Finally, don't forget about the power source. Make sure you have enough battery power to run your appliances, or consider investing in an EcoFlow solar power kit to keep your van life kitchen powered up.
WHAT DO YOU COOK IN A VAN?
One of the best things about van life cooking is the freedom. You can cook simple meals like pasta or more complex dishes like curries and stews. When planning your van life meals, it's important to consider the ingredients you'll need and how long they'll last without refrigeration. Some popular van life meals include breakfast burritos, stir-fries, and grilled sandwiches.
It's also a good idea to consider the size of your van life kitchen and the cooking equipment you have. For example, if you have a small portable stove, you may want to focus on simple one-pot meals that require fewer ingredients. Alternatively, if you have a complete van life kitchen, you may want to experiment with more complex recipes and cooking techniques.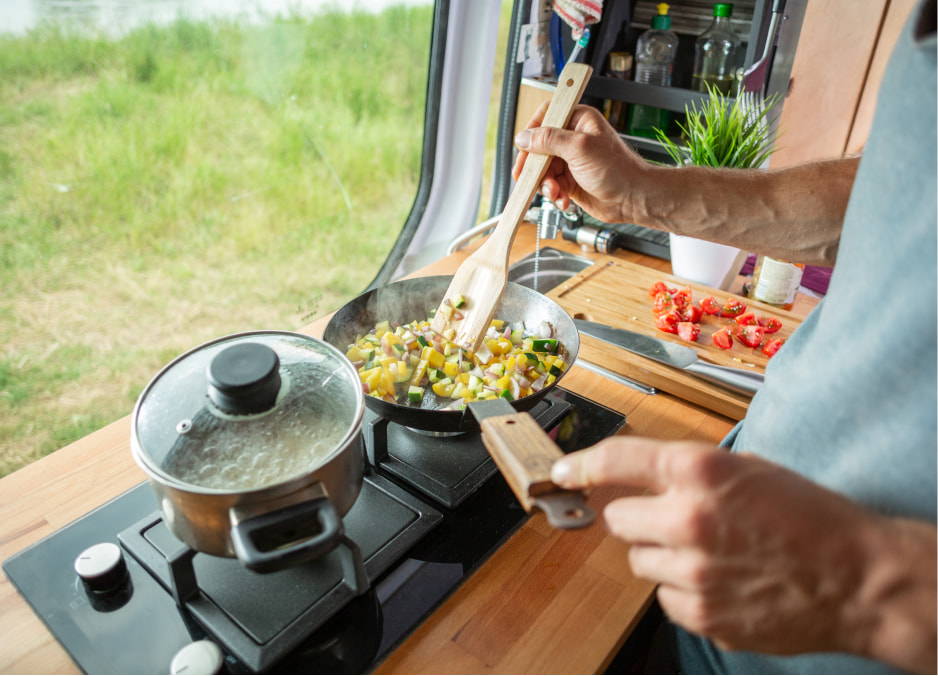 VAN LIFE COOKING: THE ULTIMATE GUIDE TO DELICIOUS MEALS ON THE GO
In this complete guide to van life cooking, we discuss how to overcome the challenges of cooking in a van, compare the pros and cons of different fridge options, and provide tips on what to cook and how to plan your meals. Whether you are a full-time van lifer or planning a weekend camping trip, this guide will help you make your van life kitchen a functional and efficient space to cook up some delicious meals.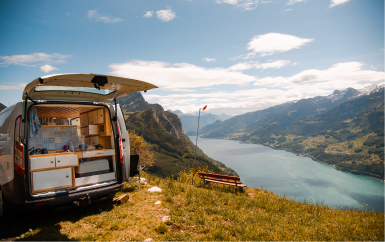 What are the best vans for van life?
When it comes to living in a motorhome, there's a wide range of vehicles you can choose from. Depending on whether you need more space, improved mobility, or maybe you're limited by budget...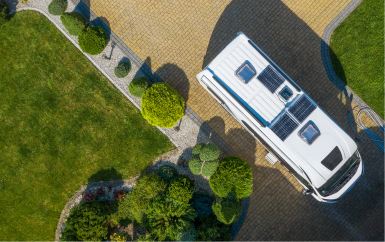 Choosing the ideal solar panel for a camper van
Staying powered on while living off-grid can be a challenge. You need to power a combination of AC and DC devices, from fridges to lightbulbs, with a very limited source of electricity...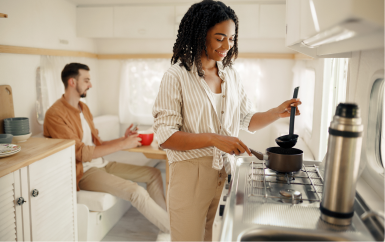 How to assemble an RV water system
At home, fresh water is not an issue for most of us. You're connected to the grid with enough pressure to get fresh water on tap, at any time of day. But there's no such luxury in a motorhome...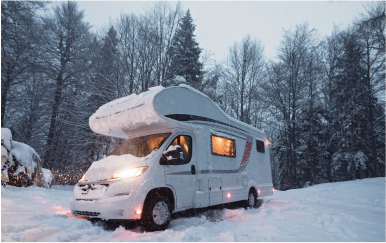 Winter RV living guide: everything you need to know
Vandwelling is typically associated with warm weather and summer activities. However, many vanlifers travel full-time, all year round. If you're planning to live in an RV in the winter...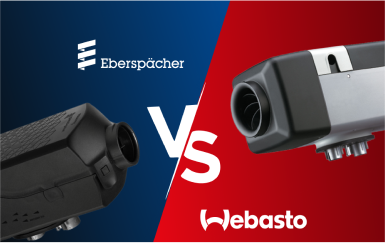 Espar vs Webasto - best space heating systems
Whether you're traveling in an RV, van, or boat, you need a reliable space heater to stay warm. Webasto and Espar are the two the leading brands in the automotive heating industry.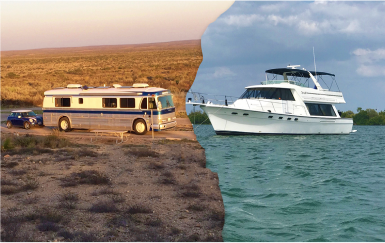 Choosing a diesel heater for your van or boat
When traveling in a campervan or RV, you need to be prepared for colder climates. A reliable air diesel heater will keep your cabin nice and warm, while a diesel water heater will...