Webasto Diesel Cooker X100 With Installation Kit
Webasto Diesel Cooker Cooktop X100 ensures an easy preparation of your meal.
The one-flame cooker offers one area to cook and one to warm up meals.
Robust, high quality and elegant looking CERAN® cooking surface
Easy to use and to clean
Low current and fuel consumption (uses diesel from your fuel tank)
Hot plate indication light
Altitude function for optimal use in mountains
Easy installation thanks to compact size
It takes up to 3 minutes until the burning pricess is starting
Cooker's heat output is continualy adjustable

A cooling fan in the ventilation box ensures that the temperature does not reach a critical limit in the installation area
Technical Details: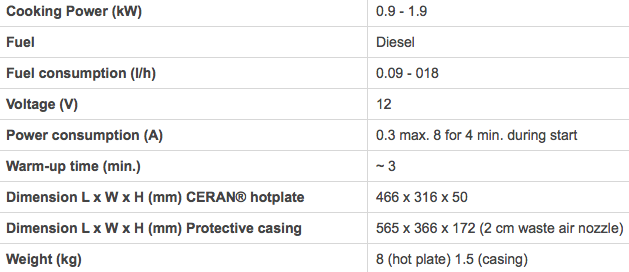 Warranty Included
Received it looks like a high-end product it was packed really good can't really comment on any more at this time to haven't installed it yet I'm still doing my van build.Also bought espar heater . I had Questions and the company was real good at helping me out I would recommend buying from them .